In front of an excellent crowd the Swifts secured victory over NZFC side Waikato FC in the showpiece game of the club's 75th Jubilee weekend celebrations. It was the perfect result for Matamata on a perfect day for football during a perfect weekend.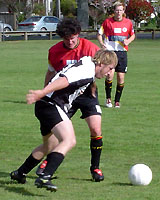 A goal in each half did the job for Matamata in a tight game against the young and talented visitors. Scott Parsonage smacked the ball home from 25 yards less than twenty minutes into the game and substitute Jason Collins confirmed the victory five minutes from the end with a cool finish after getting on the end of a defence-splitting Luis Maldonado pass.

Between the goals and, indeed, even before the first one went in, the Swifts were forced to soak up a mountain of pressure. The visitors held on to the ball better than Matamata during the first half and they spent much of this period probing for openings that never really came.

While they looked an excellent side, Waikato seemed to struggle for ideas the closer they got to the Matamata 18 yard box. They appeared more content to secure possession in the middle of the pitch than push on towards goal. Much of this apprehension could be attributed to the Swifts defensive unit in which Colin Taylor, on the left of the back three, was simply superb. Duncan Lowry, in the middle, was at his uncompromising best, while Gary Darkes in goal had his reflexes fully sharpened for when he was called upon to use them.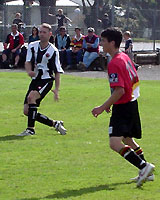 The visitors paid the Swifts the ultimate compliment by coming into this match ready to play. Sometimes festival-type matches can generate into farcical goalfests, but this game was never going to be that way. The tackles from both sides had real bite and the banter from both sets of players, as well as from the dug-outs, was first class.

At least one Waikato player was rolled off injured, never to return, while Jason Collins grabbed his goal only minutes after being elbowed in the face and having his nose broken. Fortunately it takes more than a cheap shot to stop him.

As always the performance of the Swifts central midfield duo of Andy Birchenough and Alberto Romero was crucial to their team's performance. One of the hightlight's of the day was Romero doing a full 720 degree turn in possession of the ball with a Waikato player chasing him all the way around. Sheer class from a class player.

Matamata will head into the summer break in good heart. Over the course of the season they have found out how to win and win well. It's a pleasant feeling and one they will take towards any challenge the 2006 season brings.